Squire Fan Club Newsletter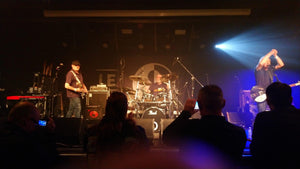 Hi and welcome to the latest newsletter where we review the concerts so far, look back on our recent trip to Scotland last week and consider next years expectations! First of all thank you to everyone who has made it to the gigs - and thank you to Secret Affair for making us 'special guests', and being so wonderful to play with! We have been going from strength to strength on the dates, and every gig has has a special memory! We really enjoy meeting and speaking to the fans before and after the show, and its here that...
---
Hi and welcome to the newsletter where we dive back into the Get Smart archives and find unheard mixes of the basic guitar bass and drums backing tracks, before the orchestral embellishments such as strings were recorded! First of all, thank you to everyone who came to see us in Nottingham and Newcastle on the first weekend of the tour! It feels great to be back on stage and meeting you all at the 'merch table' after the performance! We really enjoyed ourselves and from all the fantastic comments and conversations in person at the gigs and on the Facebook pages, ...
---
HI and welcome to the latest newsletter! We are so excited to be one day away from the GET SMART with SQUIRE tour with Secret Affair! We hope to see many of you at the gigs and look forward to chatting with you at the 'merch table' afterwards! The gigs will be particularly special because we have been auditioning songs from the Get Smart album and have chosen some unheard numbers! The photo above is taken from Autumn 1982 at Le Beat Route in Soho, London , where we first auditioned Get Smart songs before starting the recording a few...
---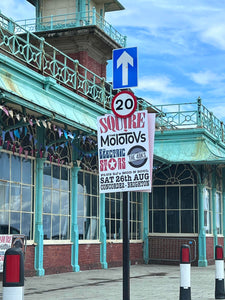 Hi and welcome to the latest newsletter. Already a week since our first concert of the year and we're still buzzing about the date! We are calling this newsletter 'Down To Brighton On My Scooter With You" with reference to the line in the song 'Its A Mod Mod World!' You can see a clip of the set opener here! The atmosphere in the venue was electric!    We certainly enjoyed our day at the seaside! Brighton Bank Holiday is remarkable as a collective celebration of all aspects of mod culture. Last year we played alongside the 'This Is...
---
 Hi & welcome to the latest newsletter, where we talk about live concerts and get to share a fantastic video review of the Squire history and recording anthology! We're excitedly counting the days to our first concert of the year - Brighton this Saturday 26th August, and we are also able to confirm the last concert of the year as well! We have been joined by Chords UK and The Killermeters on what looks like a fantastic finale to 2023!  We hope to see you down the front this Saturday - we're looking forward to seeing you on the Secret...