Squire Fan Club Newsletter
    The above picture of Squire was taken during their interview with the New Musical Express in September 1979. The building behind is the rear entrance of the'Black Cat Building' in Mornington Crescent, Camden Town, London where the band met with journalist Paul Du Noyer to discuss 'King's Road' and the exploding mod scene. Although Squire shared the same street angst and ambition as the other bands that emerged from the Mod Revival, we also mixed the pop sound with a softer side. This was evident when it came to choose the B-side of the follow up song to...
---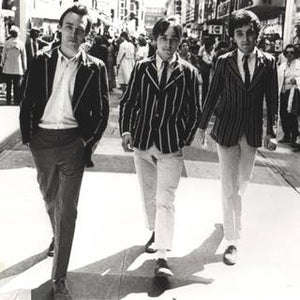 Our latest newsletter talks about 1979 and the release of the single 'Walking Down The Kings Road'. Recorded on 12
th
August and released in September, it has remained a Squire favourite.
---
Squire discuss the recording and inspiration behind their recording of The Byrds classic 'Eight Miles High'
---
  The photo above is of Anthony playing at the iconic Hope & Anchor, Islington, London in the summer of 1979, right at the onset of the Mod Revival. It not only reminds us of how we all miss performing live, but the picture captures the era perfectly, the emerging culture of the time, the audience, and the keen enthusiasm! For guitar nerds, the Rickenbacker is a 3/4 size 1964 325 Rose Morris model and provided the opening guitar sound on Get Ready To Go, the rhythm of 'Kings Road', Its A Mod Mod World, the riff of The Face...
---
Welcome to the second edition of the new Squire Fan Club Newsletter! The previous edition was also sent as a hard copy to all those who bought the September Gurls vinyl edition in the UK. (We're sorry we couldn't send it to overseas fans). It is reprinted on the new Hilo Records website, more of that in a moment, and if you want, we can email you a PDF copy of the printed version which was designed as an homage of the very first 1982 newsletter! We hope you will enjoy receiving future news of Squire. Of course, you can...